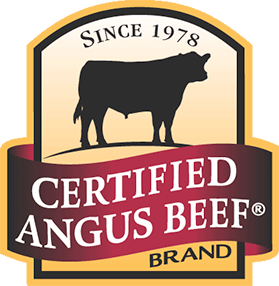 Certified Angus Beef
The Certified Angus Beef® brand is the world's first premium brand of black Angus beef owned by the American Angus Association® and its collection of farming and ranching families. This nonprofit brand has been supporting rural communities and local black Angus farming families since 1978… and making bellies happy just as long.

What's so special about the Certified Angus Beef® brand?
Designated by meeting 10 science-based specifications that are more selective than USDA Prime, Choice and Select.
Only 3 in 10 black Angus cattle meet the brand's high standards.
Have you tasted it? If so, you wouldn't be asking this question.
Watch why it's the best.
Meet The Ranchers
The Certified Angus Beef® brand beef served at MOOYAH begins with a collection of ranching families and their Angus cattle. And we couldn't be prouder to support a beef legacy that includes dedicated, hardworking families like these.
The Perrier Family
Eureka, Kansas
Nestled in the southern Flint Hills of Kansas, Dalebanks Angus Ranch cattle roam some of the last vestiges of native tall grass prairie in North America. On land acquired by his great-grandfather, Matt Perrier and wife, Amy, care for several hundred head of Angus cattle and maintain a small farming operation. Alongside their children, Ava, Lyle, Hannah and Henry, Dalebanks Angus Ranch strives to produce the very best beef available with the end user in mind.
The McPeake Family
Arnoldsville, Georgia
From the wide-open spaces of South Dakota to the freedom found in Oklahoma, the McPeake family journey is marked by adventures that cross state lines and define what it means to dream. Settling in the small community of Arnoldsville, Georgia, their value of family and Angus cows remains steadfast. Look no further than their southern home to find cattle resting under the shade of tall Pines and children experiencing the joy of new life with each new season.
The Olson Family
Hereford, Texas
Farming and ranching hold deep roots for Steve Olson and his family. Settled in the flat country of the Texas panhandle, Angus cattle wander on native pasture developed by ancestors who came before him. Steve and his wife, Ginger, take pride in raising their cattle and children on the land's natural resources, being careful and attentive to ensure it for generations.
MOOYAH is not just a fan of this bodacious beef, we're a licensed partner with the Certified Angus Beef® brand, ensuring integrity, consistency and dang-tasty flavor in every bite.
Learn more at CertifiedAngusBeef.com. And click here to order a Certified Angus Beef® brand burger from MOOYAH now. What are you waiting for? Didn't you just read how awesome this beef is? Order now!