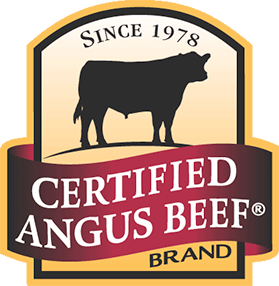 Certified Angus Beef
The Certified Angus Beef® brand is the world's first premium brand of black Angus beef owned by the American Angus Association® and its collection of farming and ranching families. This nonprofit brand has been supporting rural communities and local black Angus farming families since 1978… and making bellies happy just as long.

What's so special about the Certified Angus Beef® brand?
Designated by meeting 10 science-based specifications that are more selective than USDA Prime, Choice and Select.
Only 3 in 10 black Angus cattle meet the brand's high standards.
Have you tasted it? If so, you wouldn't be asking this question.
Watch why it's the best.
Meet The Ranchers
The Certified Angus Beef® brand beef served at MOOYAH begins with a collection of ranching families and their Angus cattle. And we couldn't be prouder to support a beef legacy that includes dedicated, hardworking families like these.
Kevin & Lydia
Yon Family Farms, South Carolina
Yon Family Farms is located in central South Carolina. It's a first generation family ranch started in 1996. There may be easier ways to make a living, but none better. Anything worth having is worth working for. And there's been lots of hard work. Our family often takes better care of their cows than themselves. We want our black Angus cattle to make the Certified Angus Beef® brand, and it is not easy. Only the top tier of our black Angus cattle make the quality specifications. Which is why the Certified Angus Beef® brand is not hit and miss – it's good every time. Life lessons on a farm are endless. Our kids have learned to work hard, to be honest, to do what they say they're going to do. Cattle have to be fed on holidays. And you can't sleep in just because it's raining. It's important for us to do this together as a family. Just as important as it is for us to eat together.
Doug & Glenda
Schroeder Angus, Iowa
We're in eastern Iowa. We don't have fences here. We have creeks that run through the pastures – those are our fences. It's the best place in the world to live. Getting up in the morning and smelling the fresh air and the wind blowing in your hair, it doesn't get any better than this. Not everybody has this opportunity. We're so grateful for it. This way of life teaches our kids how to be good stewards of the land. As they were growing up, they complained about doing chores on weekends while their friends got to do different things. Now our daughter says, "You know, I appreciate all the hard work that we had to do." We were at the grocer's recently and noticed that the whole meat counter was filled with the Certified Angus Beef® brand. We had a lot of pride because we knew where that black Angus beef came from. We knew it was quality beef.
Phil & Annie
Trowbridge Angus, New York
We're in the Hudson Valley, between the Berkshire mountain range and the Adirondack foothills. It's gorgeous. Cows thrive here. The most beautiful time of year? That's every day. One morning we looked out of our bedroom window, and we could see the heifers out on the lawn and thought, "Oh, boy." Our grandfather started this about 1955 with a "herd" of one black Angus cow. Now we have 250 cows and 1,000 acres. It's us, our son and one hired hand – that's how we get it done. Most people would call 80 or 90 hours a week work. But we feel we've never worked a day in our life. Once we were told we couldn't have this in New York. But this is as good as anyplace in the country, and I attribute it greatly to the Certified Angus Beef® brand.
Rob & Lori
Thomas Angus Ranch, Oregon
The Certified Angus Beef® brand is a family. Our ranch, a stone's throw from the Oregon Trail, is an ideal place to teach our kids the moral code of cowboys and ranchers – the work ethic, values and morals. The lessons of hard work and doing the right thing. We're on the threshold of the family's third generation here. Thomas Angus Ranch was started by our parents with the goal of producing the very best black Angus cattle they could. We fulfill that goal every day. How proud it makes us to hear people say with a smile, "Hey, I had your beef last night." It's why we do what we do.
MOOYAH is not just a fan of this bodacious beef, we're a licensed partner with the Certified Angus Beef® brand, ensuring integrity, consistency and dang-tasty flavor in every bite.
Learn more at CertifiedAngusBeef.com. And click here to order a Certified Angus Beef® brand burger from MOOYAH now. What are you waiting for? Didn't you just read how awesome this beef is? Order now!