Birmingham AL #152
2112 7th Ave South
Birmingham, AL 35233
205.224.5644
Hours
Sun-Thurs (To-go & Delivery only) 10:30am-8pm
Fri-Sat (To-go & Delivery only) 10:30am-9pm
Curbside delivery now available!
Specials at this location
University of Alabama Birmingham Medical Plaza
If you're looking for great restaurants in Birmingham look no further. The best burgers in Birmingham are at MOOYAH in the UAB Medical Plaza. Try one of our never-frozen Certified Angus Beef® burgers, all natural turkey burgers, or black bean veggie burgers with a non-GMO fresh-baked potato or multigrain bun, or cut the carbs and make it an Iceburger. Pair it with our hand-cut Idaho potato french fries or savory sweet potato fries because, let's face it, you deserve it! Wash it down with a real ice cream shake in one of our 7 flavors and you'll see why people are talking about MOOYAH burgers in Birmingham. Download and create an account on the MOOYAH Rewards App and get rewarded with a free order of our famous hand-cut fries. Then scan the app when you checkout and earn 1 point for every $1 you spend at MOOYAH. 100 points earns you a $10 reward! Download the free app today and start earning rewards for free food. What are you waiting for? Step into one of the best restaurants in Birmingham today!
Nearby Locations
The Shops of Colonnade
3439 Colonnade Pkwy, Suite 1000, Birmingham, AL 35243
Stadium Trace Shopping Center
1028 Marble Terrace, Suite 100, Hoover, AL 35244
<!- loc-article -->
Birmingham AL #152
2112 7th Ave South
Birmingham, AL 35233

Hours
Sun-Thurs (To-go & Delivery only)
10:30am-8pm
Fri-Sat (To-go & Delivery only)
10:30am-9pm
Curbside delivery now available!
Specials at this location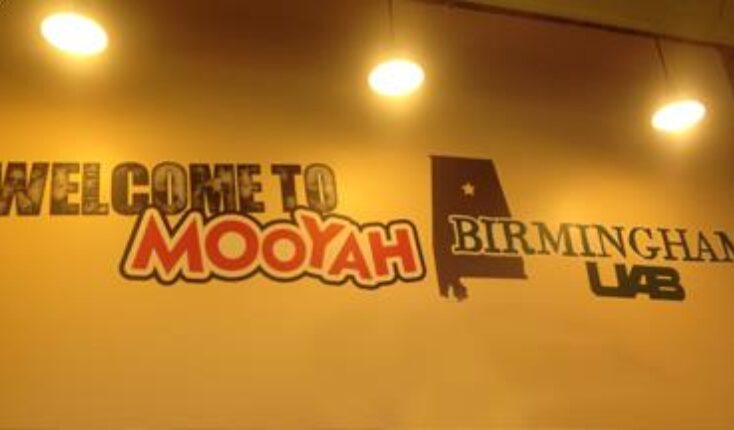 View More Pics